Get the infographic!
Now, it's time to dig deeper into the details of using tags to ramp up your social marketing efforts.
So, without further ado, here goes: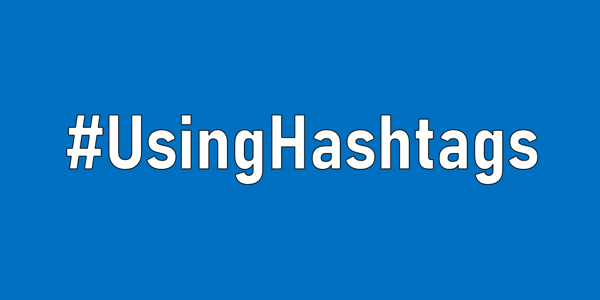 Using Hashtags to Expand Your Brand's Reach
When used properly, social media hashtags can be powerful tools that not only engage your target audience, but also reach their network of friends and followers.
Here are some ways to use various types of custom hashtags to boost your social strategy:
Niche Hashtags

Niche-focused hashtags are custom tags used to connect brands to specific audiences. These specialty hashtags can be really effective for small- and medium-sized businesses looking for ways to stand out among larger competitors.

Expert tip: To reach an especially targeted audience, use highly specific niche hashtags. For example, say you are aiming to reach antique furniture buyers; using the hashtag #AntiqueFurniture will get your post drowned in a feed with 305,000 others. But if you use #AntiqueFrenchFurniture instead there would be less than 1,300 search results, making it much more likely that you would be discovered.
Branded Hashtags

Branded tags are unique to your business, and are effective ways to differentiate yourself from the competition while driving brand awareness and providing your followers and customers a way to engage with you.

Expert tip: Branded hashtags can be something as simple as your company name, tagline or brand identity; or could even be tied to specific products, services or marketing campaigns. For instance, Macy's, the department store, uses the hashtag #MacysLove to spread brand awareness and give its customers a way to share user-generated content.

Important: Before adopting a branded hashtag, be sure to search to ensure that it is not already taken by another business. And if you have a branded tag, follow it to engage in social listening to see what people say about your business.
Event Hashtags

Event-focused tags (like #NYFW, an acronym for New York Fashion Week, and #BostonMarathon) are excellent ways to promote local, regional or national events; and bring customers to retail establishments and attractions, while also ramping up engagement.

Expert tip: Make sure your event hashtags are relevant, descriptive, concise and easy to remember. And use it widely before, during and after your event to take advantage of buzz and post-happenings chatter. As a final touch, don't forget the importance of visibly using event tags in your offline promotions to steer traffic to your social accounts.

Online and offline promotion is a two-way street. Read more about using online marketing to drive in-person business..

Building a Community with Hashtags

Hashtags are a brilliant way to create a targeted community or micro-community around your brand, increasing your visibility, engagement and reach.

Take cues from outdoor clothing retailer REI, which started a community that would blossom into a full-blown movement using the hashtag #optoutside to encourage its employees and other people to connect and explore nature. Over the past few years, tens of millions of Instagram and Twitter users have shared their outdoor adventures with the tag.

Expert tip: To find community-oriented hashtags, do your research and see which Instagram hashtags your target audience uses when they talk about things related to your brand, then adopt them. To build community, give users and consumers a reason to use your hashtag. (Whether it's a prize or sharing user-generated content, audiences respond better when they get something out of the relationship.)

Include Hashtags in Your Social Media Bios

Hashtags can be used in profiles on both Twitter and Instagram, which makes them even more powerful drivers of traffic with clickable links pointing to on-platform hashtag search feeds.

Expert tip: To take advantage of bio hashtags simply enter the hashtag symbol ("#") before any word in your profile and it will become a hyperlinked tag that you can use to do anything from highlighting your branded content to spreading the word about your virtual community.

Steer Clear of Banned Hashtags

To make social platforms better places for users and advertisers, the Big Three network all ban certain hashtags — some temporarily and others permanently — meaning they won't show up in search results. Although there is no single resource for determining which tags are banned on Twitter and Instagram, both sites ban any hashtags that promote violence, offensive behavior, pornography, illegal drugs, firearms transactions, and hate groups, organized crime and terrorism. They also ban an ever-changing list of tags that appear to be harmless.

Here's a way to find banned hashtags on Instagram:

Tap on the magnifying glass icon to go to the Explore page.
Enter any given hashtag in the search field.
If the tag doesn't appear in results, it has been banned

It's important to note, however, that banned hashtags may still show up in search results. To confirm a hashtag ban, tap on the hashtag in the results. If it's banned, the hyperlink will lead to a broken page with no content.

Expert tip: If your Instagram posts and Twitter tweets seem to be getting fewer likes and comments, or you can't find them in search results, you are probably shadowbanned, which means users who don't follow you can't see your content. To avoid being banned, don't post anything illicit, sexually-explicit or insensitive. Also, avoid overusing hashtags or using third-party apps to try and game the system.
6 Hashtag Mistakes You Should Never Make

Avoid using hashtags without doing proper research and asking an outside opinion about them.
Steer clear of hashtags that are either too long or complicated, which means they'll be harder to remember or search for.
On Instagram don't add any hashtags after posting content, since tags added after the fact don't show up in searches.
Don't use all lowercase hashtag phrases, since they can be difficult to read. Alternatively, capitalize the first letter of each word.
Don't forget to give your followers and others a reason or incentive to use your branded hashtags.
Never believe that hashtags alone are all you need to succeed. Produce compelling content, respond to every comment and constantly find new ways to engage your target audience.
Conclusion

No matter what you hope to accomplish with your outreach efforts — increase brand awareness, generate leads or make sales —hashtags are a powerful social media marketing tool that can incite curiosity, attract followers and even help build long-term relationships with potential customers.
So use them wisely and persistently over time to give your brand a competitive advantage in an increasingly crowded social landscape.
Good luck!
Building an effective presence on Facebook, Twitter and Instagram requires experience and know-how. CLICK HERE for Free Consultation and let Dotlogics steer your brand or business to social media success.