Get the infographic!
Embracing online marketing to some degree is almost essential for every business, no matter how they traditionally connect and do business with the customers and clients.
Now, even offline-only business must learn to seamlessly blend both physical and digital marketing strategies to create customer experiences that establish and build deeper relationships with consumers, who increasing seek to engage with brands and companies on their own terms.
Here are some basic must-haves offline businesses seeking to attract customers online for
in-store commerce: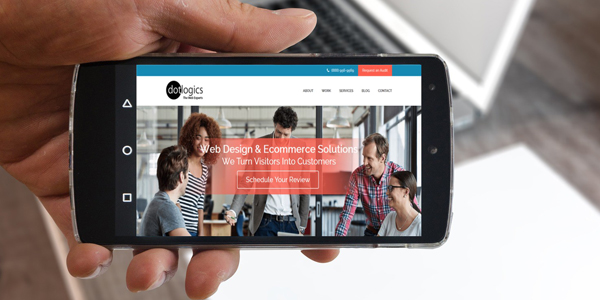 Make Mobile Web Design a Priority

While many brands and business not involved in ecommerce don't view their website as an important component of digital marketing, nothing could be further from the truth. Quality web design is vital to reach potential customers online, which is why you need to invest in UI and UX..

Just consider these facts. Research shows that mobile devices now make up two-thirds of all digital media consumption, and 57% of web users say they won't recommend a business with a poorly designed mobile site.

So, a mobile-friendly website must be an integral part of your short- and long-term marketing strategy.

UX and UI experts have the art of creating mobile websites down to a science, taking into account everything from page load times to how the placement of certainelements on mobile displays influences whether or not someone visits your store or makes a purchase.

So, do your homework and hire someone with technical expertise and hands-on experience in mobile-focused web development and design.
Leverage Free Web Marketing Channels

Today, 46% of all Google searches are local, and 75% of people who find useful information in search results are likely to visit brick-and-mortar stores. That means even if you don't do business online, your marketing efforts should include the Web with a focus on local search. If not, you're missing out on potential customers.

Some powerful no-cost approaches to try:

Set up a Facebook presence. Facebook business pages are free public profiles that are similar to personal Facebook accounts. They provide a great way to connect with current customers and reach new ones (who find you through Google searches). Use it to promote your business with comments, status updates, links, event announcements, photos and videos.

Establish your Google My Business page. Claim and maintain your free Google My Business account to make it easier for Web users to find you in local searches and on Google Maps. Best of all, it's free of charge, is easy to manage and gives you a chance to add contact photos, contact information and a quick blurb of text to describe what your business is all about.

Get or claim your business' online listings. To drive even more online searcher to your real-word business, make sure it is listed the following local and national directories:
Use Positive Online Reviews to Your Advantage

BrightLocal research shows that 91% of Web users regularly or occasionally read online reviews, and that 84% of people trust online reviews as much as they do personal recommendations.

Here are three ways to get words of praise:

Request reviews. Contact customers on your email list and ask them to leave a review for you on your Facebook or Google page, being sure to include direct links to make it convenient for them. Alternatively, add a line to every point of sale (POS) receipt with the URL for leaving reviews.

Ask for testimonials. When a customer has had an exceptional experience with you, ask them for a testimonial and a photo to accompany it (if possible). Then, use it on your website, social media accounts, blog, sales pages, press releases, direct mailings and brochures.

Provide an incentive. Give customers a good reason to write a review: something for nothing. Consider offering them a free gift card (your store, Starbucks, Amazon.com or Visa) if they leave you a review.

Conclusion

For brick-and-mortar businesses to survive the ever-shifting trend toward a web-based economy, they must invest in optimizing their virtual presence. By effectively leveraging online marketing, physical stores will be able to survive, and even thrive, at a time when digital is the both the present
and the future.
Using online and offline strategies for business takes know-how. Let Dotlogics use its technical expertise and marketing experience to steer you toward success.