Get the infographic!
While the restaurant industry is notorious for outdated, low-quality sites, brands like Starbucks, Panera Bread, and others have led the charge as food-service operators who have adopted and integrated cutting-edge web technologies into their restaurant businesses. This influx of technology has opened the door to new ways for restaurants to engage with and serve consumers, while significantly impacting their expectations.
Having a quality website can make the difference between landing a new customer or missing out on an opportunity. And no matter how great your food, service, and ambiance are, a poorly-designed website will make a bad first impression and lead to lost business.
Many customers associate the quality of a restaurant's website as a reflection of the quality of everything from the food to the customer service—rightly or not—which makes it vital to have a quality website as the virtual face of your brand. It helps set the stage for consumer expectations, and is as important as your menu and location.
That said, here are six features every effective restaurant websites must have.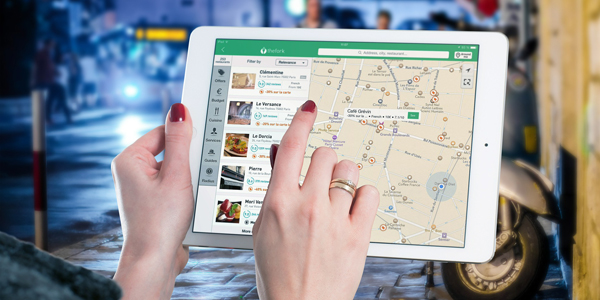 Mobile Ordering or Reservations

As we discussed in a previous blog on restaurant websites, online ordering is a crucial feature for food-service sites. A growing number of restaurants embraced online ordering options for both delivery and takeout, as more consumers express a preference for web ordering over placing orders by phone.

According to an orderTalk report, people feel more comfortable providing their credit card information via a secure website than reading off the card number on the phone. And almost half of consumers cite an improved experience with digital ordering, which allows them to browse restaurant menus at their own pace, save time, skip waiting in line and have a more accurate order.

Since 52% of all Web traffic comes from mobile devices (people deciding where to eat while on the go), it is imperative for restaurant websites to be mobile-friendly and adjust to any screen size or device type. If your website isn't easy to navigate on a smartphone or tablet with a responsive layout and mobile payment options, you're missing out on business.

Even if your restaurant doesn't offer delivery services or takeout, offering mobile options for making reservations or placing catering orders can give you a leg up on the competition.
Video Content

If a picture is worth a thousand words, then a video is worth a million! Every successful restaurant website should include videos.

Here are some ideas on how to integrate them into your website:

Customer reviews. While most restaurant patrons would object to being filmed while eating, many would welcome the opportunity to say some brand-flattering on-camera comments in exchange for a discounted meal or complementary appetizer. You could also partner with popular food bloggers and social media influencers to create "authentic" video reviews to use on your website.

Food preparation. Consider giving potential customers a glimpse into your food prep process, which can not only will emphasize the cleanliness of your kitchen and the freshness of your ingredients, but show them photogenic completed meals that leave them clamoring for a taste.

An intimate intro. Think about airing a video giving prospective patrons an introduction to your background in the form of a mini-documentary, which can help make your restaurant feel more personable than a typical "faceless" business.
Social Media and Review Integrations

A well-designed restaurant website is a great tool for cross promotion with your social media and review site profiles. You could strategically place links to these third-party platforms on your website, or create a unique page dedicated specifically to relevant, complimentary outside links.

No matter your approach, be sure your social media and review profiles are consistent with your website branding, and be sure to stay active on both social and review sites, quickly responding to any customer questions, comments or reviews that are left. All outbound links should be set to open up in new windows or tabs to ensure visitors don't completely leave your website.

Remember to always provide a link back to your website on social media and review platforms to provide a traffic stream and show off your site.
A Customized "About Us" Section

Use the about section as a prime place to show and tell what sets your restaurant apart from the competition, making you different and special.

Your website's "about" page is a great place to tell your restaurant's personal story. Do you only use organic or locally-sourced ingredients for your menu? Do you have an interesting history or connection to a famous figure? Were you inspired by your grandmother's mouthwatering recipes from your childhood? Let your potential customers know all about it!

The about section is also the perfect place to emphasize your restaurant's perks and benefits. Do you have convenient parking lot or offer valet service? Do you chefs come from a high-profile restaurant or cooking school? Have you been featured in a popular magazine, newspaper or website? Do you offer free WiFi? Tell everyone about it!

If you don't have much to say, it may be a good idea to show off a few of your online reviews. Scour review sites like Yelp, Google, Facebook, OpenTable and Zagat, then republish the most flattering reviews that were left by restaurant-goers who have dined at your establishment.

You could also let photos your menu items do the talking by publishing eye-catching images and combining them with well-written content by experts in food writing. This will engage would-be visitors and allow them to visualize (and crave) your offerings. High-quality photos taken by a professional photographer are a must. Smartphone cameras may have come a long way, but this is something best left to the pros, considering an unflattering photo could make or break a customer.
Admin Editing Capabilities

Every restaurant website needs an editor-friendly admin dashboard that works seamlessly on all major web browsers, so the site administrator can edit and update content as required.

Some regular changes that must be made to restaurant sites include:

Menu changes: While it's a good idea to maintain consistency in your menu, some changes are inevitable (such as price changes and seasonal dishes).

Specials: Notices of money-saving deals on food or drinks that will act as an incentive for new or regular patrons to visit should always be noted on your website.

Coupons: Admins should be able to create, activate, disable and withdraw percentage or dollar amount off coupons being offered at the restaurant, as well as track how often these coupons are
being downloaded.

Photos and videos: Images and videos should be periodically swapped out to give your website a fresh, new look and feel.Social media: Any changes to your social media accounts, including adding a presence on a new platform, has to be noted on your website.

Event calendar: If your eatery has regular events or offers rotating deals, new notices will need to be included and past events removed to keep the calendar up to date.

Catering and reservation information: If there are changes to the catering options you offer or the prices or terms of renting out your space for parties, weddings or corporate events, this information will need to be updated.
Data Monitoring and Tracking

Analytics may not be a feature that customers will see, but it is an essential part of any successful restaurant website, since it's impossible to keep track of how effective your site and online marketing efforts are without some sort of analytical tool.

Aside from Google Analytics, there are a number of other tools that can track everything from where your website's visitors come from to which of your site's pages receive the most views.

Here are a few metrics your restaurant website should be tracking:

Orders & Sales Records: Keep track of total sales within a given period, revenue directly tied to online orders, the number of specials sold, the most and least popular of menu options, metrics related to coupons, and how many reservations are being made through the website. A restaurateur can track a lot of data through his or her site, and a savvy one will use that data to adjust menus and business practices.

Bounce rate: This is the rate at which people exit your site without being converted into a customer. The more time people send on your site, the better, so you'll want to work to keep your bounce rate as
low as possible.

Keywords: To get the most bang from your website with search engine optimization (SEO) or Google ads, it's important to know which keywords people are searching when they find your website. Knowing this can also help you fine-tune the keywords you use to market your restaurant online. For example, if many customers found your website by searching for "pizza place near me," it's a good idea to stress your great pizza slices and pies, even if your menu is loaded with other items.

Conclusion

No matter if you run a fast-food or quick-casual brand, or a family-style eating or fine-dining establishment, the question isn't what web technology can do for restaurants; it's what restaurants can do with web technology.

Adopting these restaurant-friendly tactics will provide you with opportunities to integrate tech functions into your website in a way that builds visits and sales, while deepening customer loyalty and gaining valuable insights into consumer behavior—placing your restaurant on the path to success.
Dotlogics has the skill and experience with restaurant websites to help you make the most of your online presence. Contact us for a free consultation.