Get the infographic!
Facebook's traffic may be declining, but with an average of nearly 1.5 billion daily active users — from everyday consumers to business decision-makers — Facebook remains the best digital ad platform for both B2B and B2C business.
70% of U.S. users log into the site daily, and the average Facebook user spends an hour on the platform, according to data from Pew Research Center.
These numbers represent a huge opportunity for brands and companies.
To inspire your digital advertising efforts in 2019, here are four examples of successful Facebook ad campaigns of 2018, with key takeaways that you can learn from.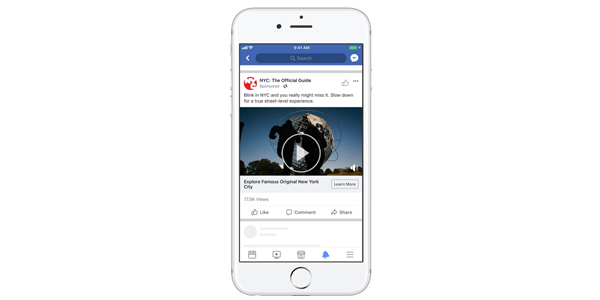 NYC & Company

Goal: New York City's tourism marketing organization sought to attract travelers seeking a less-touristy, more authentic side of the Big Apple, and encourage them to discover hidden gems in the 5 boroughs of The City That Never Sleeps.

Results: The two-month-long campaign resulted in a total of 1.4 million video views, with 61% more views from a trip consideration audience, and a 2.6X lower cost per conversion — views of key pages and actions taken on the website that indicated intent to travel to NYC.

Why It Worked: Targeting consumers who expressed intent to travel, but hadn't yet decided on a destination, the campaign aimed to entice them to New York for a longer travel experience by promoting "True York City." Ads focused on showing visually-compelling short- and long-form videos to inspire travelers, following up with quality written content to inform and using link ads with CTA buttons to encourage trip booking.
Tentree

Goal: The Vancouver, Canada-based eco-friendly clothing retailer who plants ten trees for every product it sells wanted to reach high-value, socially-conscious American consumers interested in fashion.

Results: In just 10 days, the ecommerce lifestyle apparel company saw an 85% increase in revenue over their earlier Canadian campaign, 3X return on ad spend, the establishment of 50 new accounts with U.S. retail chains and the planting of 2.8X more trees in a month.

Why It Worked: To reach U.S. consumers, tentree used a mix of carousel and dynamic ads featuring lifestyle images and video ads showcasing products worn by models in natural lifestyle settings (think forests and mountains). The ads targeted women aged 23–34, excluding those who had made a purchase in the last 14 days. They also set their sights on people interested in socially conscious products, as well as existing customers and lookalike audiences based on its customer list and people who had previously engaged the company's posts and products.
BaubleBar

Goal: The ecommerce fashion jewelry and accessories company wanted to reach a broader audience of new customers, while cost-efficiently increasing sales.

Results: In just three days, BaubleBar saw a 2X increase in average number of daily purchases and a 47% increase in return on ad spend.

Why It Worked: Rather than creating individual ads for each piece of jewelry, BaubleBar used its product catalog to create a template for dynamic ads that pulled and displayed various products, depending on who views the ad (for instance, showing earrings to consumers who had previously shopped for rings on BaubleBar's site). In previous campaigns, BaubleBar employed lookalike audiences and behavioral targeting, which can sometimes exclude valuable audience members from seeing dynamic ads. This time, they removed specific targeting, showing ads to a broad audience of women aged 18 years and up.
Bombas

Goal: The U.S. sock manufacturer and ecommerce brand wanted to jumpstart Facebook sales while maintaining ad spend and achieving more efficient conversions by simplifying their ad account.

Results: The two-week-long effort resulted in a 2X increase in product purchases and a 23X increase in sales per ad set.

Why It Worked: Bombas, a successful Facebook advertiser, created 2 ad sets in one account, testing it against its existing ad account setup. The company used top-performing video ads with a range of bold sock patterns and a "Shop Now" call-to-action (CTA) button linked to the company's ecommerce site. Bombas found that by running a simplified ad structure, consolidating ad sets and determining the right bid-to-budget ratio, they not only achieved better results, but the simplified setup was actually easier to manage than the previous system, which regularly changed budgets and bids, ran several ad sets or turned audiences on and off.

Conclusion

Although these campaigns had different objectives and results, the one thing these Facebook ad campaigns all have in common is the use of strategic approach and a well-thought-out creative process to set themselves up for success. So, whether your planning to dive in Facebook ads or try your hand at PPC campaigns, careful planning is a must.
Facebook ads are an important component on a digital marketing strategy.Dotlogics can help you to reach customers on Facebook, Instagram, Google and beyond.