Get the infographic!
Unfortunately, many brands on both sides miss the mark on a prime opportunity to generate more traffic (and leads), while cultivating a loyal following. How? Through blogging.
While social media, video and other content options have stolen the spotlight, blogs are still powerful business tools for building authority and high-value traffic to your site. The key is delivering quality information your readers are seeking in an engaging way that connects with them.
Just how much does blogging still matter? Research by the SEO specialists at Conductor found that consumers are 131% more likely to buy from a brand after reading educational content. For their part, nearly 70% of B2B companies that blog generate more leads than those who don't, according to marketing software firm InsideView.
Below, you'll find four examples of outstanding blogs run by ecommerce sites and B2B companies, along with lessons that you can learn from them.
The aspirational lifestyle brand, Goop, is most famous for being the brainchild of Oscar-winning actress Gwyneth Paltrow. But what started as a weekly newsletter and website quickly morphed into a fashion label, beauty brand, wellness information hub and source of inspiration for living the good
life, naturally.
Despite raising the ire of many with some controversial (and questionable) health advice and being mocked for its pricey luxury goods, Goop has amassed a loyal following of die-hard fans. With blog posts covering topics that include wellness, food, style, beauty and travel, Goop keeps its audience informed and inspired, building a community around its brand with a resource that gives customers and subscribers exactly what they want: a lifestyle publication that speaks to their interests.
In addition to driving traffic to its own ecommerce store, Goop also produces sponsored content for brands who want to reach its readers, who have an average annual household income of over $100,000.
Key lessons:
Don't shy away from scaling up your blog, even to the extent of creating a full-blown publication to infuse your website with fresh content.
Mix things up with diverse content types and mediums, from how-to posts to profiles of influencers to engaging videos that can be used across platforms.
Form partnerships with related but non-competing brands to extend your offerings and reach.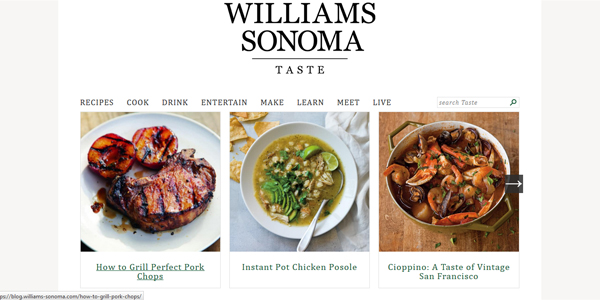 Ever-popular cooking retailer and e-tailer Williams-Sonoma's Pinterest-friendly Taste blog provides a beautiful example of a brand successfully making a seamless transition between their brick-and-mortar identity and their online presence. Featuring high-quality images representative of the company's upscale flavor, Taste offers customers and readers entre into a world where cooking is front and center, with everything from how-to tutorials to recipes to chef profiles.
Set up in traditional chronological blog style, although the brand stays true to its kitchen roots, it goes a few steps further with insightful content on drink, entertaining, gardening and DIY projects, setting it apart from the competition and attracting serious cooking enthusiasts and stylish foodies who entertain at home—funneling leads to both its high-end kitchenware ecommerce and retail stores, cooking classes and live events.
Key Lessons:
Use relatable content as a strategy to help your brand to form an emotional bond with your audience and build deeper relationships with your readers.
Provide a mix of practical, entertaining and inspiring content to give your audience a taste (no pun intended) of everything they want.
Build trust and encourage sharing by placing social media buttons with each post.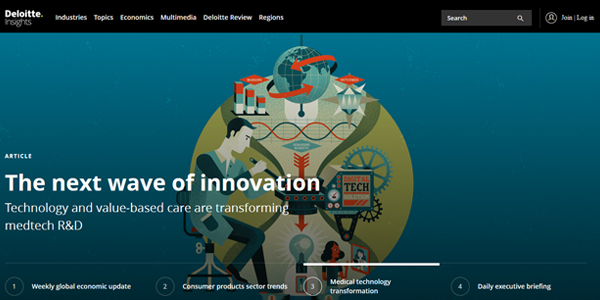 Deloitte, a leading a professional services firm with consulting and accounting wings, creates some of the best B2B content anywhere through its Deloitte Insights blog. Showing a broad range of knowledge across a large swathe of industries, including technology, life sciences and government, the firm has positioned itself as a high-level resource and thought leader.
From blog posts, articles and in-depth reports to videos, podcasts and webcasts, Deloitte Insights provides thought-provoking, cutting-edge insights and research in its areas of specialization and the industries it works with.
Key Lessons:
While creating a broad information clearinghouse is challenging, if your business has several specialties, it could be well worth the effort to give you an authoritative presence.
Work to steadily build highly-focused relevant content to establish your blog as a content hub for your fields of expertise.
Consider creating microsites to organize large volumes of varying content, which will keep information easy to discover and navigate.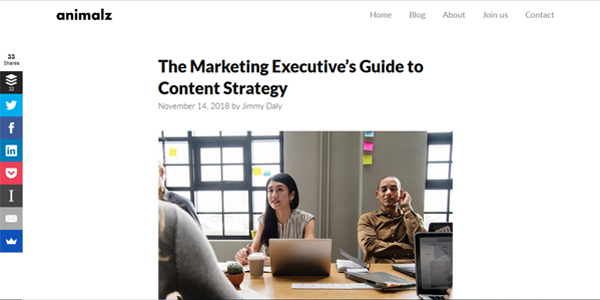 For this high-end content marketing agency serving B2B SaaS, technology and crypto-related companies, its depth of specialized knowledge is a major selling point to marketing directors and Chief Marketing Officers (CMOs) seeking content marketing strategies to generate leads.
Favoring quality and depth over quantity and breadth, Animalz's straightforward, no-nonsense blog showcases its highly-evolved expertise in business-to-business content marketing, with well-informed, actionable posts (and companion podcasts) that inform and educate its audience with no sales pitches.
Key Lessons:
Give some thought to what issues or problems your product or service solves, then create content that dives deep into the subject matter, providing detailed insight with no strings attached.
Think long-term and try to establish your blog as a go-to resource that functions as a virtual library and knowledge center focused on teaching your audience things of value that it wants to learn.
Conclusion
If there's a single lesson to be learned from these blogs, it's the importance of knowing your audience. Instead of trying to be everything to everyone, they all focused their efforts on building followings by establishing a reputation that stands out from the crowd in well-defined niches.
When used properly, blogging is a strategy with the potential to build brand awareness, establish relationships with potential customers (while deepening them with existing ones) and drive sales.
Done right, blogging can help you to grow your online business. Dotlogics has a team of content specialists who can help you to engage your customers through your brand blog.